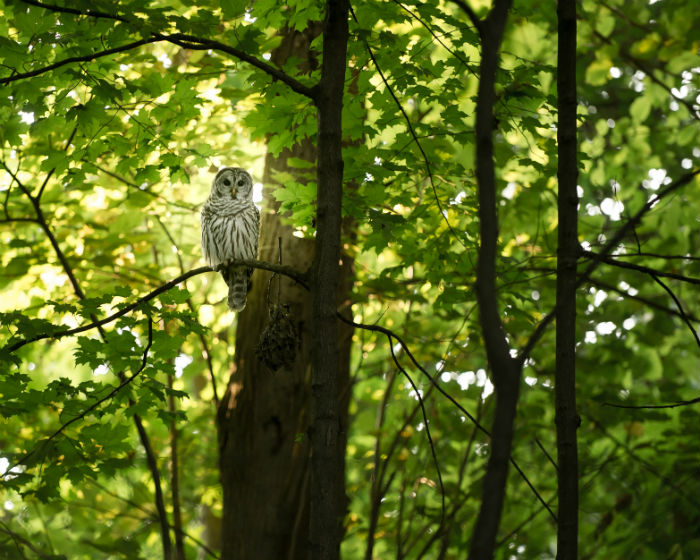 Recently published, The Life and Times of Jamyang Khyentse Chökyi Lodrö recounts many dreams and visions of this exceptional 19th-20th century Tibetan Buddhist master, including this one concerning Sogyal Lakar (Sogyal Rinpoche), who he watched over as a child.
One night, I dreamt that at dusk I went to meet someone thought to be the divine prince of Derge, Ngawang Jampal Rinchen.  He was said to live in a grass hut with a very small door that stood inside an ordinary house in a hamlet at the foot of the mountain.  He looked youthful, had a small topknot of dark matted hair, was clothed in green leaves, and sat gazing at the floor as I expressed my joy and devotion.  The prince, who wore a red woolen robe, put a similar one around my shoulders, stood up, and went outside.  I went with him, removed the robe, and offered it to him, having cut off a piece, saying I wanted it as an object of devotion.  Then I stood naked before him.  It was completely dark, and I couldn't seen the whole vision properly, but I sense there was a row of people and that he was beating them—Lakar Sogyal, for example.  The prince was quite mad!  He then lay on his back, naked, and said the boy might go crazy and cause internal strife.  After many such dreams, I woke up.

I fell asleep once more and at first dreamt the same dream again.
Just a Dream or a Prophesy?
What are we to make of this dream?  The dreams of great masters like Jamyang Khyentse Chökyi Lodrö are more likely to be prophetic than those of ordinary humans, but not every prophecy comes to pass.  Also, in the dream, Ngawang Jampal Rinchen uses the word "might."
However, since so much internal strife, as hinted at in the dream, has occurred over the years in Rigpa in response to questionable behavior on the part of Sogyal Rinpoche, are we not obliged to explore the implications of this dream?  After all, the dream repeated itself at least once and perhaps again in other forms as Jamyang Khyentse Chökyi Lodrö said he had "many such dreams" that same night.
Complicating Factors?
In light of this dream, perhaps we need to revisit the fact that Sogyal Rinpoche fell into a coma for five days in 2005.  Although his physicians could never determine the exact cause of the coma, they concluded with near certainty that a virus was most likely the culprit.  When he left the hospital, he had cognitive, visual, and speech difficulties.  People around him found his temper to be more intense than ever.
It took him months to recover.  But did he fully recover?  Damage from a brain infection can cause long-term mental and physical problems, including personality and behavioral changes.  Some have noticed an acceleration of violent, erratic, and aberrant behavior since the hospitalization that hasn't diminished over time.
That's not to say problems didn't exist before the hospitalization. But, they may have multiplied and intensified afterwards, perhaps making it even more imperative for students to speak out.
Asking Hard Questions
What if "pure perception" or "guru devotion" obstructed us from seeing an unresolved medical problem that led to an escalation of rageful behavior? Would that be beneficial to a teacher, when it could lead him to harm others in ways that have irreversible consequences?  For example, what if someone died when he allegedly struck them unconscious?
This may seem like an indelicate topic given Sogyal Rinpoche's diagnosis of cancer, the fact that he's in recovery from surgery, and the reality that he is or will be receiving mild chemotherapy as a preventive measure for a period of six months.  I'm so sorry for his suffering and wish him a full recovery from the depth of my heart.
At the same time, we cannot forget the victims who have also suffered, have been virtually unacknowledged by key leaders in Rigpa, and  have been vilified in various ways by any number of senior Rigpa students.
A firm will be chosen soon for the independent investigation, according to Rigpa management in different countries.  Medical issues, like possible long-term effects from his brain infection or complications from diabetes should be considered in the review process so a complete picture can be ascertained.
Medical problems don't excuse unethical behavior.  But if they exist, knowing about them can help us understand, in part, how abuse could have happened in the Rigpa community.
[jetpack_subscription_form]
SaveSave
SaveSave
SaveSave
SaveSave
SaveSave
SaveSave
SaveSave
SaveSave
SaveSaveSaveSave
SaveSave
SaveSave
SaveSave
SaveSave
SaveSave
SaveSave

Copyright secured by Digiprove © 2017
(Visited 5,371 times)