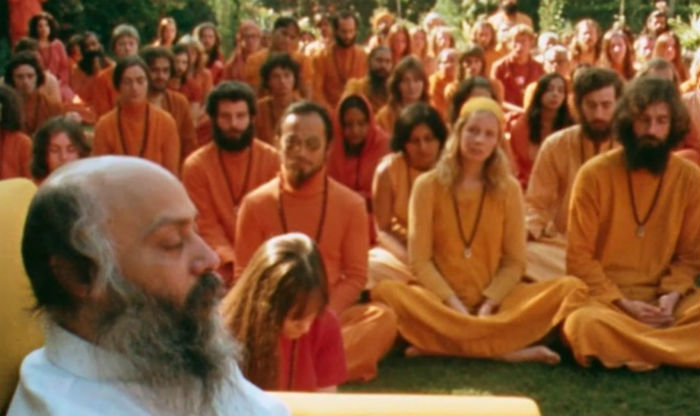 Wild Wild Country, the just released limited series on Netflix, documents the rise and fall of the thousands-strong 80's Rajneesh (Osho) community near Antelope, Oregon.
Rajneeshees purchased 64,000 acres of land near the town of Antelope, and subsequently built and legally incorporated a massive city and agricultural endeavor in the wilderness. Their Utopian ideal, in which people could  live, laugh, love, and be free, aligned perfectly with the free-love movement already happening in the West.  As such, Rajneesh and his philosophy magnetized thousands of smart, hardworking people.
Rajneeshpuram, as the city was called, wasn't an experiment in spiritual austerity.  The city housed any number of Western indulgences including a gambling venue, a disco, clothing stores, and eateries.  Nudity and open sexually were the norm. Almost ten thousand more Rajneeshees streamed through the town of Antelope to reach Rajneeshpuram during its annual global festival.
The conservative, god-fearing residents of nearby Antelope, previously a sleepy town of around 100 people, were initially startled, confused, and bemused by the red-clad devotees. But as their quiet lives were increasingly disrupted, and the commune's intentions for further growth became clear, they felt something had to be done.
It took time to convince officials, but eventually planning regulations were invoked to put a halt to further building at the ranch.  In retaliation, the Rajneeshees took over the city of Antelope by buying up property and moving devotees there. Rajneeshees quickly became the majority on the Antelope City Council.
The scenario descends into darkness from this point forward.
Rajneesh himself remained in silent retreat for most of his time at Rajneeshpuram.  He had placed his trust in the the commune's charismatic director Ma Anand Sheela.
Sheela went to war with the Oregonians.  She organized the purchase of a variety of weapons, including AK46 assault rifles, and made sure devotees were trained in their use.  As the conflict heated up, she utilized all forms of media to defend the commune and what she believed was its legal right to exist, including popular late night talk shows.  She didn't hesitate to provoke and attack.
Sheela planned a take over of Wasco county next.  Busloads of homeless people were brought in from cities all over the U. S. so they could vote and hopefully move the Wasco county election in favor of Rajneesh candidates.
Most of what had been done to this point was legal, but was it right?  Sheela claimed the utopian ideals enacted by the group, for the benefit of all society, outweighed any distress brought to a small group of local residents.
As the divide grew larger and efforts to dismantle the city escalated, Sheela and her cohorts spiraled into criminal activity, including salmonella poisoning of 750 locals, arson, attempted homicide, and the largest wiretapping operation ever investigated in the United States.
I haven't said too much about Rajneesh (Osho) in all this, so you'll have to watch to find out.  But in short, he was arrested for immigration fraud and deported from the U. S.
This is a remarkable film, a must-see for anyone who wonders how the beautiful and pure aspirations of a spiritual community can descend into darkness and how devotion can blind even intelligent people to the truth.
The films directors offer, I feel, a factual and objective view of what occurred, using scores of footage from the time.  They perfectly capture the fears and concerns of both "sides," and provide compassionate insight into those who committed such senseless crimes.  The film illustrates how the perception of the same individual or situation can vary radically from person to person, making it difficult to ferret out the "truth."  Even now, more than 25 years later, people see what occurred in wildly different ways.
Wild Wild Country also shows, in an immensely powerful way, how our own needs for love, recognition, and righteousness can obscure our ability to see clearly and lead us to justify actions that do not align with the light.
Wild Wild Country is mind-boggling.  Don't miss it. Watch Wild Wild Country on Netflix.
And read these in-depth, critical reviews of the documentary series:
---
[jetpack_subscription_form]

Copyright secured by Digiprove © 2018
(Visited 2,326 times)